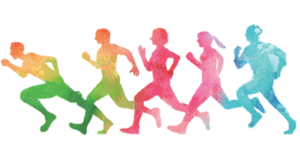 Through physical activities, UP&RUNNING aims to promote self-management and recovery among young people experiencing early signs or symptoms of poor health.

Our goal is to promote exercise as part of the holistic and integrative approach to mental wellbeing and include principles of the 5 Ways to Wellbeing (connect, learn, be active, give and take notice).
To do this, we aim to introduce young people to new activities through free training and taster sessions in boxing, running, football, general strength and conditioning, yoga, mindfulness and more! In addition, we aim to connect young people in a social, fun and non-judgmental environment.
For exercises to do at home, please download our Physical Activity self-help booklet put together by qualified personal trainer Fiyory Ghezae.
Please click the button below for upcoming events, and sign up to join the HERON Network mailing list to receive information on activities and events.
Fiyory, Cerisse and Charlotte lead the sessions. 
The team share the views that it is essential we focus on getting young people more active as this will have both physical and psychological benefits. Our ethos is to give people an insight into the variety of ways they can exercise, and help them find an exercise they enjoy!
In 2019 we were joined by Fiyory!
Fiyory continued Paul's work, incorporating her own style, and activities learnt from coaching football and personal training.  She also created the UP&RUNNING Instagram page posting a range of content from exercise videos to nutrition tips, in hope to help reach those that may not be able to attend sessions, and to keep people active while sessions aren't available.
Summer-Autumn 2018
This year, Charlotte, Cerisse & Paul McCambridge (Director of Back to Roots, Lecturer in Chiropractic & PhD student) created HERON-UP&RUNNING. The programme offered a much broader range of opportunities to try out new ways to be physically active. Rather than focusing on running only, this year we emphasised the fun. We also aimed to help group member find a type of exercise that they enjoy and to help them carry on exercising after the programme by linking them in with locally available free/low-cost activity opportunities.
Summer 2017
The first pilot HERON-RUN course was funded by the Maudsley Charity and took place between August and October 2017. Young people and their care coordinators took part in weekly 45-minute run sessions in Kennington Park over ten weeks, culminating in a 5k Park Run. Each session involved a warm up, drills, fitness challenge and warm down.
HERON-RUN was a collaboration between the HERON and Mark Callaghan, which offers free running sessions for young mental health service users aged 16-35 years. Mark, a running coach, approached HERON with a goal to share his love of running with people who might be at risk of experiencing poor health, but who may face barriers to engaging with exercise.
Over the ten-week period, 9 young people and 5 coordinators came along on a drop in basis, with sessions supported by three HERON members.