Mental Health and Wellbeing of Black University Students in the UK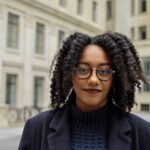 Mental Health and Wellbeing of Black University Students in the UK
The purpose of this project is to explore the mental health journey and experiences of Black (African, Caribbean, and mixed heritage with Black) students at UK universities using storytelling.
In 2019 the Office for Students reported that "black students with mental health conditions are being failed throughout the student cycle" and that universities need to address these mental health inequalities. However, we don't know what the lived experiences of Black university students are and what mental health and wellbeing support is needed for Black students.
This project aims to:
give Black students the opportunity to talk about the life events and experiences they feel shape their mental health and wellbeing journeys at university
explore how institutional and structural racism within UK higher education systems shape the mental health and wellbeing experiences and outcomes of Black university students.
To do this, I am inviting 30 Black university students who attend or attended (in the last year) one of 10 selected universities across the United Kingdom to take part in a virtual interview with me, to tell their story. Every student who takes part will be given £20 Love-to-Shop e-voucher as a thank you.
I will use these stories to understand the experiences of Black university students at all stages of the university student lifecycle.
The result and write up of this project has the potential to generate a better understanding of the Black student mental health experience within UK higher education. This understanding can guide how UK higher education institutes should support Black university students, promote mental health awareness among the Black community and wider community, and give a voice to the Black university student community.
For further information, please read the Information Sheet and Project Consent Form . If you would like to take part, please fill in the expression of interest form below and I will get back to you as soon as possible:
Expression of interest form for Mental Health and Wellbeing of Black University Students in the UK Study
If you would like to speak to me, please contact me, Nkasi Stoll (PhD Candidate), on blackstudentwellbeing@kcl.ac.uk
[This project has received full ethical approval from King's College London (KCL) Psychiatry, Nursing & Midwifery Research Ethics. Project reference: HR-19/20-2048]